_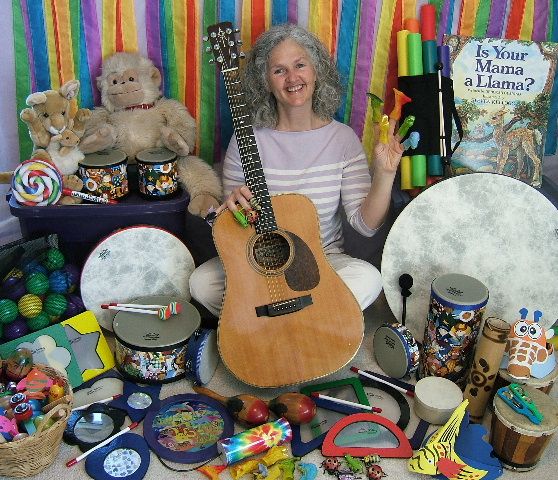 Music for Children . . . . that grown-ups love too !
Annie Hawe
Annie performs as a solo artist singing & playing guitar.  Performances are very interactive with an emphasis on a large assortment of percussion instruments for the children to play, finger puppets, singing & dancing.  Annie includes original songs, traditional favorites and other children's music to insure a rich variety.  Fun, musical experiences for everyone involved is her goal!
Program Description
Age appropriate: Toddler - 2nd grade.
Programs were designed with the Academic Content Standards in mind.
Children will learn & sing songs with varied styles, rhythms, tempos & dynamics.
They will participate in echo songs, call & response songs, as well as standard verse & refrain songs.
Children will use finger puppets & percussion instruments during some songs.
The children will sing songs that encourage movement, dramatization & the use of their imagination.
Children will learn about the use of rhyming words in songs.
They will discover how some songs tell stories & take you on adventures.
Song themes include seasons of the year, birds, dinosaurs, bugs, animals sounds, counting, ABC's, humor, importance of the little things in life, having fun & much, much more.
Note: Annie will create a program based around a theme you are working on.
Rates
Rates are very reasonable & vary based on your needs.
Please call or e-mail for rates & bookings.

Contact Information

address: Annie Hawe
The Annie Jam Band
P.O. Box 681
Sunbury, Ohio 43074

phone: 614 565-5650

e-mail:anniejamband@columbus.rr.com

website: www.anniejamband.com
(sample music on this website)